The EEGLAB News #14


Amanda Studnicki

Human Neuromechanics Laboratory, University of Florida
PhD candidate in Biomedical Engineering | Neuroimaging | Signal Processing | Sports Science | Sensorimotor Integration


Why do some athletes perform better than others? What causes that rush of adrenaline during competition? How does your brain and body coordinate movements?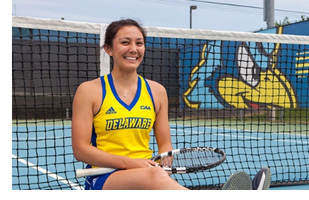 Amanda Studnicki, current Ph.D. student in the Biomedical Engineering Department at the University of Florida (UF), strives to find answers. "I have always been fascinated by the human body and how our bodies control movement," she explains. "I grew up playing competitive tennis and was then co-captain of the University of Delaware's (UD) tennis team while completing my undergraduate degree." (Photo credit: University of Delaware).
An avid athlete, Amanda has always loved sports and had an inquisitive nature. She quickly learned that the brain was the control center of the body's movement. During her undergraduate studies, she had an epiphany – she could combine her interests: "I have had the particularly fortunate opportunity to bridge my passions for sports with the field of mobile brain imaging!"
Now pursuing her Ph.D. in Biomedical Engineering in the Human Neuromechanics Laboratory at the University of Florida with PI Dr. Daniel Ferris, she is living that dream. "I explore human brain function during complex, whole-body motor tasks like table tennis. My project uses high-density mobile electroencephalography (EEG) to reveal timing of brain activation for participants perceiving, coordinating, and interacting with objects in the real-world." Her research focuses on de-noising neurophysiological recordings during real-world movement behaviors and understanding how the brain integrates sensory information and executes motor plans. (Photo: Table tennis research; Photo credit: Amanda Studnicki)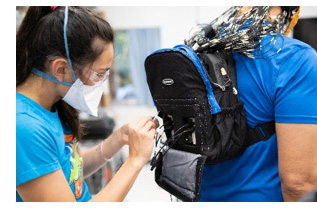 Not only is Amanda's research fascinating, it is also very fun, as one tweeter shares: "Made a trip to the Human Neuromechanics Lab at UF (@AmandaStudnicki, @Ferris_vball) to participate in perhaps the funnest EEG study I'll ever do!" (click here and here to view short videos on twitter)
Modifying EEG equipment for real-world movement has been a challenge, but with her astute brainstorming skills, Amanda has been up to the task: "I needed to come up with a way to make our high-density dual-layer EEG setup more mobile. So, I iterated through different backpack designs to create a system that was secure, lightweight, and mobile – including 3D printing cases to house the amplifiers, modifying a backpack, and other alterations!" (Photo to right: Amanda setting up the special backpack; Photo credit: Frazier Springfield)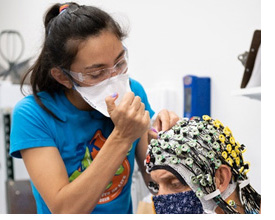 EEGLAB. EEGLAB is the current "standard" for processing EEG data in the Human Neuromechanics Lab under Dr. Daniel Ferris' careful direction. Amanda is grateful to have such a knowledgeable mentor. Dr. Ferris began working with the Mobile Brain/Body Imaging (MoBI) paradigm with Dr. Scott Makeig at the Swartz Center for Computational Neuroscience (SCCN) in 2008. Amanda recalls, "I was quickly introduced to all the tools EEGLAB had to offer in my first year of graduate school. EEGLAB has been fantastic!" She enthuses. "I use a combination of EEGLAB plug-ins and my own scripts to process my data. For my current studies, I use EEGLAB, FieldTrip, FOOOF, and SPM in my signal processing pipelines." (Photo: Amanda working with EEG cap on a research participant; Photo credit: Frazier Springfield)
Another aspect of EEGLAB has deeply impressed her – the cooperation and shared knowledge within the EEGLAB community. "I enjoy the collaborative nature of the EEGLAB community – the listserv, the online documentation, and the workshops." She attended her first EEGLAB workshop in the summer following her first year at UF (2015) at UC San Diego. "In that first workshop," Amanda recollects, "a lot of the content was very new to me, since I had only just started collecting EEG data myself. I remember being very excited to meet the investigators in person whose papers I had read!"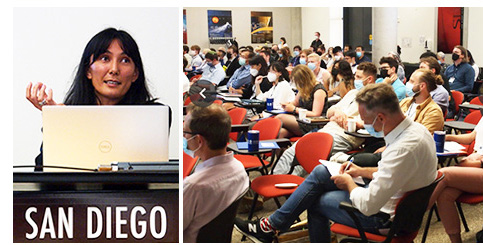 Amanda has learned a lot since that first workshop. She recently attended the MoBI conference at UC San Diego (Summer of 2022), where she assisted in presenting a phantom head demo (with Dr. Erika Pliner and Dr. Chang Liu). Amanda elucidates: "The electrical phantom head (we call him Gary) allows us to test new signal processing techniques and experimental paradigms since ground-truth signals are known." (Photo above: Amanda presenting at MoBI 2022 at UC San Diego; Photo Credit: Makoto Miyakoshi)
Amanda also presented a 15 minute talk about her own research, elaborating on a recent publication that she is especially excited about: 'Characterizing and Removing Artifacts Using Dual-Layer EEG during Table Tennis.' (Studnicki A, et al., 2022; to view her poster, click here). The aim of this study was to characterize and identify strategies to remove artifacts in EEG data for a whole-body task such as table tennis. EEGLAB was vital to this project: "EEGLAB was a great tool that helped me organize very large datasets (120 scalp channels + an additional 120 noise channels + auxiliary channels). I used EEGLAB for the processing and group-level plotting and analysis." She continues enthusiastically, "We used dual-layer EEG to characterize EEG artifacts for a non-locomotor paradigm. We also benchmarked our lab's new dual-layer cleaning approach to traditional single-layer cleaning approaches to see if we could identify strategies for cleaning table tennis data."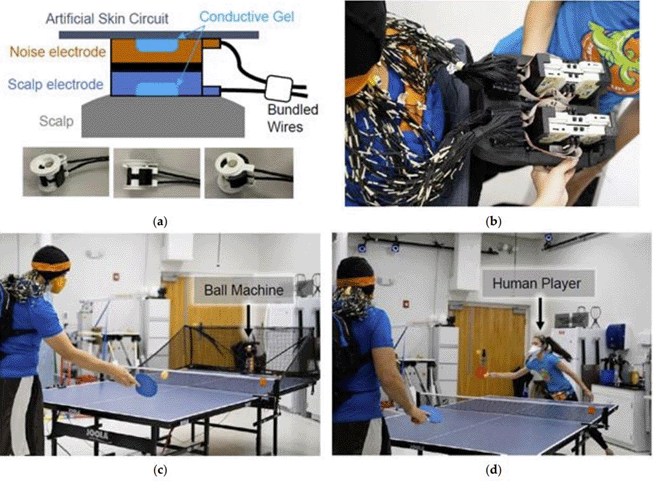 Table tennis experiment. (a) Dual-layer EEG approach. (b) The custom backpack insert for BrainVision amplifiers.
(c) Stationary and moving hitting conditions with a ball machine. (d) Cooperative and competitive conditions with a human player.

Amanda is excited about the results and what they mean for the field. "We found that using noise electrodes for data processing provided cleaner brain components. These results advance technological approaches for recording high fidelity brain dynamics in human behaviors requiring whole body movement, which will be useful for brain science research."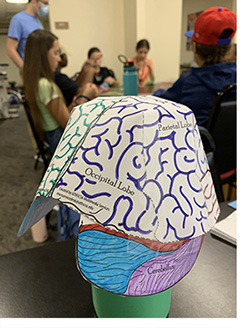 "Girls with Nerve." Another way Amanda hopes to influence the field of neuroscience is to share her passion with younger students – especially girls – to encourage them to explore the brain. She and colleagues in the labs of Dr. Daniel Ferris and R. Rachael Seidler teamed up this past summer (2022) for "Girls with Nerve". This event brought more than 20 middle school students to the UF campus for a free, week-long summer camp aimed at empowering girls to explore neuroscience. Funded by the National Science Foundation (NSF), the camp provided hands-on activities, field trips to multiple neuroscience labs and the chance to hear from leading women researchers at UF. (Photo: Amanda, helping at "Girls with Nerve"; Photo credit: Amanda Studnicki)


Background. Born in Illinois and raised by a single mom, Amanda bravely left home at age 14, to enroll full-time in a tennis academy in Florida. There, she caught the eye of Coach Laura Travis at the University of Delaware, who offered her a scholarship to play for the UD Blue Hens.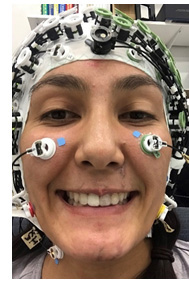 During her undergraduate studies at UD in biomedical engineering, Amanda was fascinated by her work in the Human Robotics Laboratory, under Principal Investigator, Dr. Fabrizio Sergi. There, she studied lower limb biomechanics of normal gait to confirm or falsify common gait principles. After graduating, Dr. Sergi recommended she look at the work of Daniel Ferris, in the Human Neuromechanics Laboratory at the University of Florida (UF). She was immediately captivated by Dr. Ferris' research and the projects in the lab: "They tackle real-world problems, but they also teach teamwork, collaboration, problem-solving, even conflict resolution," Amanda enthuses. Skills that she realizes are also key to sports. (Photo: Amanda wearing an EEG cap; Photo credit: Amanda Studnicki)


Looking Ahead. Amanda eagerly anticipates her graduation in May 2023. She is excited about her future, envisioning herself on a research team, developing technology. While she doesn't know exactly where she will go, she is sure of one thing: "Whenever I have a question of the "why" – the answers always lead me back to the brain."


Event-related spectral perturbation (ERSP) plot of a brain component tied to specific hit events within a player's "swing cycle"
R. Weistrop, November 2022