EEGLAB Newsletter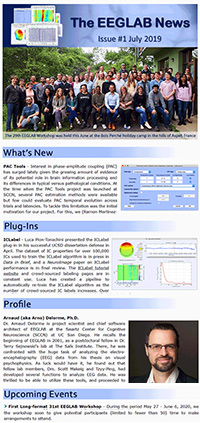 The EEGLAB development team is excited to offer a new quarterly newsletter, The EEGLAB News. It will contain:
Important EEGLAB news and new features
Brief descriptions of some new EEGLAB plug-in/extensions
A personal profile of an EEGLAB developer or user including how they use EEGLAB in their research
Announcements of upcoming EEGLAB-relevant events
Brief questions and answers about EEGLAB from the eeglablist
Links to some recent papers using EEGLAB functions
Pointer to an online tutorial video.
Please email suggestions about future topics to eeglabnewseditors@sccn.ucsd.edu.
Click below to read current & past issues: